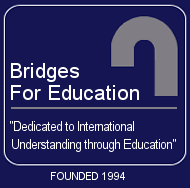 Main page

What's new?

Program

Information for Teachers

FAQs by Teachers

FAQs for Students

FAQs for Countries

Recommendations

Gallery

Scholarships

Want to help?

We get letters

Useful links

Cooperating Organizations

Guestbook
Teach Conversational English
in Eastern Europe, China and Turkey
BFE SCHOLARSHIP WINNERS IN 2003
---
BFE Scholarship Winners & Alternates
Selected from each Camp, Summer 2002 to attend another BFE Camp Summer 2003
Tuition-free
All of these students were recognized by their teachers for their full participation, motivation, effort, improvement of English, and leadership.
BFE

Camp in Minsk, Belarus
Group Leader: Henry Ligas

BFE Scholarship Recipient: Inna Sinkevich, Belarus
BFE Scholarship Alternate: Victoria Beliuk, Belarus
BFE

Camp in Targovishte, Bulgaria
Group Leaders: Don & Marilyn Muench

Scholarship Recipient: Hristo Zahariev Boyadzhiev, Bulgaria
BFE

Camp in Gyor, Hungary
Group Leader: Carol Decker

Full Scholarship Recipient: Lavinia Ezer, Romania
One-half tuition Scholarship Recipient: Mihai Bitianu, Romania
BFE

Camp in Nyiregyhaza, Hungary
Group Leader: Corliss Jacobs

Scholarship Recipient: Maciej Cwiakala, Poland
First Alternate: Gabriella Tisza, Hungary
Second Alternate: Oana Marcela Manaila, Romania
BFE

Camp in Timisoara, Romania
Group Leader: Rachel Doyle

Scholarship Recipient: Tiberiu-Adrian Trusca, Romania
First Alternate: Marija Milosavyevic, Bosnia Herzegovina
Second Alternate: Aleksandar Nedeljkovic, Yugoslavia