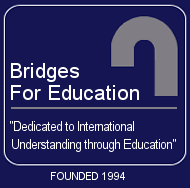 Main page

What's new?

Program

Information for Teachers

FAQs by Teachers

FAQs for Students

FAQs for Countries

Recommendations

Gallery

Scholarships

Want to help?

We get letters

Useful links

Cooperating Organizations

Guestbook
Teach Conversational English
in Eastern Europe, China and Turkey
PROGRAM
---

"It is not our differences that divide us. It is our inability to recognize, accept and celebrate those differences." - Audre Lorde
---
Teenagers
Teachers teach conversational English and North American culture for three weeks M-F in July to teenagers. Students are ages 14-18 who have taken at least one year of English. School and dormitory sites may be in the country or in a city. Teachers are two to a room with other BFE teachers. Meals are eaten together in a cafeteria. Morning sessions are held in classrooms. Afternoons and evenings are filled with field trips, movies, sports, dancing, singing, interviewing, and writing for the newspaper and literary magazine. Teachers prepare 3 hours of classes in the morning and 1-2 hours of afternoon and 1-2 hours of evening activities. (a minimum of 3 evenings a week.) Topics include role playing, intercultural, leadership, team building, critical thinking, and volunteer programs to promote tolerance ands understanding using active learning.
In order to encourage an intensive language experience, our motto is, "Teachers speak 25% and students speak 75% of the time."
Local staff plan the weekend and some weekday activities such as talent and international nights. Generally, each team consists of 11-15 American teachers and teaching assistants chosen by a BFE Group Leader. There are about 100-10 students per camp. Group Leaders are all professional teachers who have prior experience in teaching abroad with BFE.
Adults
BFE has also offered summer programs for adults in Slovakia and Poland for teachers of English and for human rights activists, journalists and non-profit organization leaders.
Scholarschips
Since 2000, BFE has offered the annual BFE scholarship program. Each summer one student per camp is chosen by the BFE team to receive a tuition scholarship to attend a BFE camp the next summer. In addition, BFE has provided tuition scholarships for students from Serbia, Bosnia, Bulgaria, Chechnya, Georgia, Kosovo, Moldova, Hungary, Romania, Ukraine (Crimean Tatars), and Poland.
Locations
Each year BFE negotiates contracts with different countries. For summer 2009, it is anticipated that BFE will organize camps in Belarus, China and Turkey. Other countries have expressed great interest. Check this site for updates beginning in December/January. This information will include locations and types of programs.
Past locations
1994 - Lviv (Ukraine) and Trakai (Lithuania)
1995 - Gulbani (Lithuania); Lviv [2 camps] (Ukraine) and Pulawy (Poland)
1996 - Palagana (Lithuania); Lviv (Ukraine), Pulawy, Rzeszow, Warsaw, Lukow (Poland); Nitra (Slovakia) and Plovdiv (Bulgaria)
1997 - Pulawy, Rzeszow, Krakow, Tuchola, Lebork, Kamien Pomorski, Wroclaw (Poland); Palagna (Lithuania); Lviv and Crimea (Ukraine)
1998 - Pulawy, Rzeszow, Wroclaw, Krakow, Poznan, Tuchola, Ustka, Lebork (Poland); Minsk (Belarus); Timisoara (Romania)
1999 - Pulawy, Rzeszow, Ustka, Krakow, Przytok, Lebork, Tuchola (Poland); Cluj (Romania); Minsk (Belarus) and Palagna (Lithuania)
2000 - Nyiregyhaza (Hungary); Cluj (Romania); Minsk and Smorgon (Belarus); Pulawy, Przytok, Rzeszow, Krakow, Tuchola, Slupsk, Ostrow Swietokrzyski (Poland)
2001 - Krakow, Ostrowiec Swietokrzyski, Pulawy [two camps], Przytok, Rzeszow, and Tuchola (Poland); Nyireyghaza (Hungary); Timisoara and Bucharest (Romania); Minsk (Belarus)
2002 - Minsk (Belarus), Targoviste (Bulgaria), Gyor and Nyiregyhaza (Hungary), Timisoara (Romania)
2003 - Targoviste (Bulgaria), Minsk (Belarus), Baia Mare (Romania)
2004 - Blagoevgrad (Bulgaria), Minsk (Belarus), Turisalu (Estonia), Cluj-Napoca, Timosoara (Romania), Zhangzhou (China)
2005 - Minsk (Belarus), Blagoevgrad (Bulgaria), Turisalu (Estonia), Timisoara (Romania), Zhangzhou (China)
2006 - Lithuania (Birstonas), Poland (Kraków), Chinga (Zhangzhou)
2007 - Lithuania (Druskininkai), Turkey (Fethiye), China (Zhangzhou)
2008 - Belarus (Minsk), Turkey (Fethiye), China (Zhangzhou)
2009 - Belarus (Minsk), Turkey (Fethiye), China (Zhangzhou)